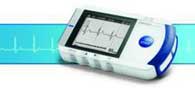 HCG-801 brošura

HCG-801 Instruction manual
Omron HeartScan HCG-801
According to the company philosophy, Omron has developed a new home monitoring device.
The new HeartScan HCG-801 ECG Monitor senses the heart waveform and indicates potential ECG abnormalities.
The Omron HeartScan HCG-801 is:
Portable
Compact
Cordless
Single-channel
Simple
Fast
Discrete
The Omron Heartscan is designed and intended for situations where conventional ECG equipment is less suitable.

12-Channels ECG devices used in hospital give more information and are used for detailed investigation. These devices are not practical in outdoor situations where transient symptoms require a fast and mobile solution.

When compared to existing mobile solutions the Heartscan offers the possibility of long-term monitoring where 24-hour Holter systems normally have difficulties recording an actual event.

In situations where further examination is required a non-invasive event recorder would be the an alternative. The continuous measurement requires displine and inconvenient electrodes and wires for the patient. discussions on the automated evaluation and recorded data is sometimes a restriction for use.

Implanted reveal devices are currently getting more popular but require a minor invasive procedure and are therefore more expensive. Because these products are invasive, not all patients are in favor of this solution.

The Omron HeartScan offers an alternative to the above mentioned procedures:
The Omron Heartscan is intended for screening and self-monitoring of cardiac events. (under professional supervision)
The device can record about 30 seconds of heart rhythm and waveform each time it is activated.
After recording, the automatic evaluation software will check the collected data.
Directly after completing the measurement the recorded rhythm strip can be reviewed on the LCD screen.
For further detailed evaluation the data can be transfered to a PC screen with the ECG-viewer software.
The SD memory card can store up to 300 recordings offering sufficient space for long-term monitoring.
The HeartScan is very simple to operate.